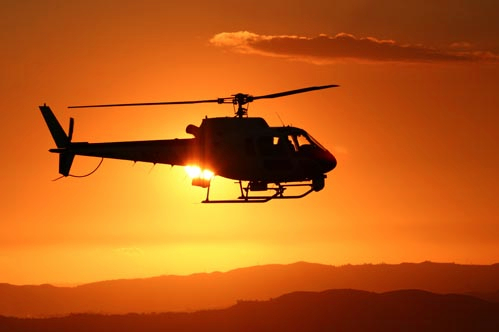 Utilizing the latest state-of-the-art equipment available, our crews possess the experience necessary to provide the highest quality service each client deserves, regardless of their market size. Every city has the potential of producing a breaking news story of national interest. Our goal is to provide our clients with properly trained personnel and equipment to effectively cover any size story, as efficiently and professionally as the largest markets.

Angel City Air continues to outperform the competition in the Los Angeles market by offering their clients, KNBC and KTLA, with outstanding service through exceptional staff experience, high quality mechanics, state-of-the art ENG equipment and the right helicopter for the job.
Larry made it a priority to assemble a truly first-rate staff for Angel City Air, his pilots and photographers offer an expertise unmatched by any other news organization in Southern California.
Headquarters
From the outside, it looks like any other hangar on the airfield, but when you enter the Angel City Air Headquarters at Whiteman Airport, you find yourself in a modern media center. Inside you find a spacious and comfortable work environment that is equipped to sustain around the clock helicopter operations. On one side of the facility you encounter the media center which incorporates an audio/video system capable of transmitting a microwave signal to the news station, a non-linear editing suite, a multi-scanner monitoring station nicknamed "Franken-Scanner," a radio communications station, an extensive videotape archive, and a "Video Wall" of eight televisions to monitor the content and movements of the other TV stations in the Los Angeles news market.


The quality of our personnel sets us apart from other helicopter operators in the industry. Safety is always the first concern. We provide our clients with the most experienced pilots, who not only have many thousands of flight hours and years of experience, but who are also well suited to the unique environment inherent in live television production. We hire from within various aviation professions including law enforcement, military, fire fighting, and motion picture production. more...


We are recognized as an industry leader, drawing from a wide array of television specialties. This gives us the opportunity to provide our clients with photographers who can meet the technical demands of aerial Electronic News Gathering while maintaining artistic quality. more...